Writing can be challenging at times. If you don't enjoy writing or want to write better, then you should consider using a writing assistant software. These tools can assist you in drafting, editing, proofreading, formatting, etc.
Writing assistants are also useful for writers who need help with their writing skills. Some people find writing difficult due to the lack of time, language barriers, and other factors. Using a writing assistant can make writing more enjoyable and effective.
Your writing should be clear, concise, accurate, understandable, and delivered in a compelling way. Here's where software for writing assistants comes in. These writing assistants work by analyzing your text and offering suggestions to improve the clarity, readability, and grammar of your content.
All these writing assistance helps writers to write content on various topics and for different niches. There are many free online tools available that can help you with your writing needs. You can use these tools when it comes to creating articles, blog posts, ebooks, etc.
What Is A Writing Assistant?
A writing assistant is a tool that analyzes the written content and provides you with suggestions to improve its quality. They are online tools that help you to catch grammar and writing mistakes so that you can write better.
Writing assistants are software programs that help writers with tasks such as proofreading, grammar checking, plagiarism detection, AI writing, and more. They also provide feedback about the quality of the content so that writers can improve their work. These tools make your job much easier and save you time.
They help in improving the quality of your content by providing feedback on things such as:
Readability
Grammar/spelling
Sentence structure
Plagiarism detection
Formatting & styling
The best thing about them is that they offer all this to help you create high-quality content, and also save tons of time and effort.
Why Use A Writing Assistant?
Writing an article or a blog post requires proper planning, research, and attention to detail. Many people find themselves struggling while doing this because of their busy schedule and other responsibilities. Therefore, a writing assistant makes life easier for them. It saves them from having to spend hours researching, writing, and editing.
They save time by automating tedious tasks. A good example of a writing assistant is Grammarly. This tool checks your grammar, spelling, style, and plagiarism. It also provides suggestions for improvement. If you use it regularly, you will learn what mistakes to avoid in future articles.
There are several reasons why you may choose to use one of these writing assistants.
You might not know how to write well, or
maybe you just feel that you aren't good enough at writing yet.
It could be that you're trying to focus on something else while writing, but the ideas keep coming in.
These are all valid reasons for using a writing assistant. However, there are several benefits of using one over another. 
Using an assistant makes sure that everything is perfect before you publish it, saving you from any mistakes or errors later down the line. It also allows you to concentrate on what you really like doing, which is the actual content itself.
Using a writing assistant is great if you want to learn how to write effectively, because it teaches you important lessons through practice. In addition, a writing assistant can provide you with tips and tricks to make your content stand out from others.
How To Choose A Good Writing Assistant Tool?
The following are some of the most important criteria to keep in mind while choosing a good writing assistant tool:
1. Accuracy
Accuracy is an important factor because when writing because it's not always possible to go through each sentence manually. So if a tool is able to detect the error accurately, then it will save you lots of time.
Accuracy is needed when writing high-quality content, you need to make sure that the tool does not miss out on anything.
2. Ease Of Use
It doesn't matter how powerful a tool is but if it requires too much time to learn how to use it, then it won't prove to be helpful. This is why ease of use is very important. Make sure that the tool has a user-friendly interface.
3. Language Support
If you're working on a project that involves multiple languages, then you need to ensure that your tool supports those languages. 
You must ensure that the writing assistant supports languages like English, Spanish, French, German, Italian, Portuguese, Russian, Japanese, Korean, Chinese, etc.
4. Speed
When using a tool, you have to keep in mind that speed matters. The faster it works, the better it is. If it takes too long to generate the report, then it might cause frustration and it might not be worth spending money on. So choose one which makes you work faster and efficiently.
5. User interface
Make sure you look at the UI (user interface) before buying a tool. Does it look easy to use or not?. User interface plays an important role. It helps you understand whether a tool is easy or difficult to use. Try to get a feel for what sort of experience you'll receive when using the tool. Avoid using tools which have complicated interfaces.
6. Customer service
Customer support is another important aspect to consider. How responsive is their customer support team? Do they respond within 24 hours? Is there a live chat option available? Are there any issues that you should know about before purchasing the product? How do they handle issues?
7. Pricing
Pricing is yet another important thing to take into consideration. What's the price range of the tool? How much would you pay per month? Will you be charged extra for adding more features? Ask these questions before buying any tool.
8. Features
You need to check what other features the tool offers. You can find many tools in the market with different features. Some of the common features include plagiarism checking, grammar checking, spell checking, formatting, style checking, AI writing, templates etc.
9. Free trial
A free trail is important to test the quality of a tool. When testing a software, you can try all its features and see whether it meets your needs or not.
You should try to get a tool that offers free trial options. Free trials are usually limited in duration but they give you enough information to decide whether the tool really suits your needs or not.
10. Reputation
How popular is the brand overall? You can also read reviews online to get some idea about the reputation of the company. There's nothing wrong in reading reviews by previous users as well. These reviews will help you gauge whether the brand is reliable or not.
10 Best Writing Assistant Software
Here are the top 10 best writing assistant software that you can try out today.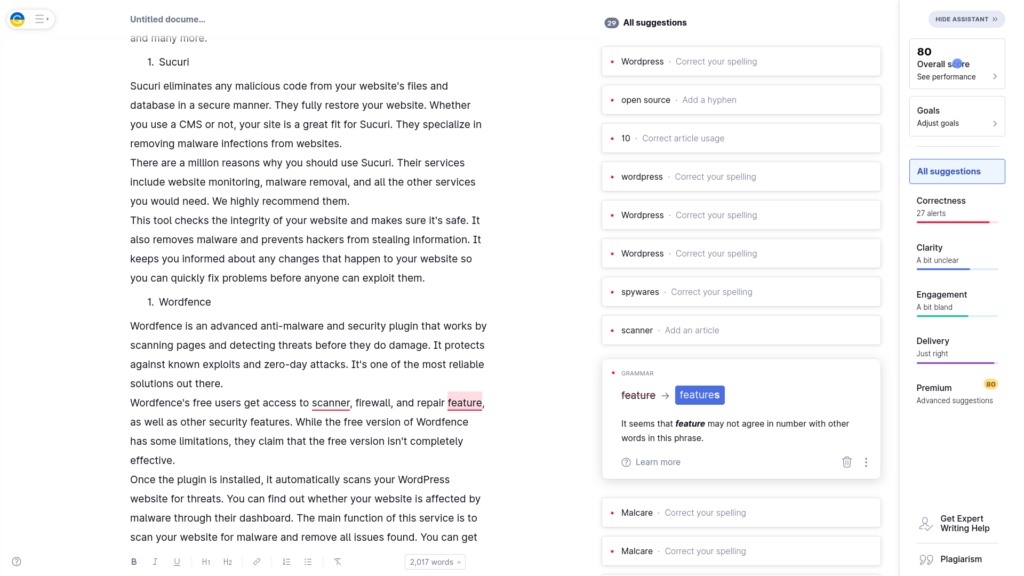 Grammarly is one of the most popular and trusted writing assistance tool. This product offers an easy-to-use interface with smart features. It allows users to focus on their writing without worrying about spelling mistakes, grammar errors, etc.
Grammarly has integrated into Microsoft Word and Google Docs. Users can also download the app for iOS and Android devices. In addition to its free online service, Grammarly offers premium plans as well. These include the Premium Plus plan which costs $12.00 per month and provides 100% confidence in your writing.
Jasper is another excellent writing assistant tool. Jasper is an AI writing tool that helps you write faster with 99% original, human readable content. It uses artificial intelligence to help you write fast and save tons of time. It is integrated with Grammarly, so you don't need to worry about spelling mistakes. 
Jarvis is an AI program that generates quality content automatically. It uses AI to create high-quality content at large scales. It currently supports over 20 languages in which you can write contents, it also has over 50 templates in which you can choose from.
Here is a list of things Jarvis can help you do:
Write long form content
Write copy for landing pages
Write blog posts
Writing ad copy
Write quality content
Eliminate writer's block
Youtube videos
Write email copy
Write social media posts
Write marketing copy
Write articles
Write compelling content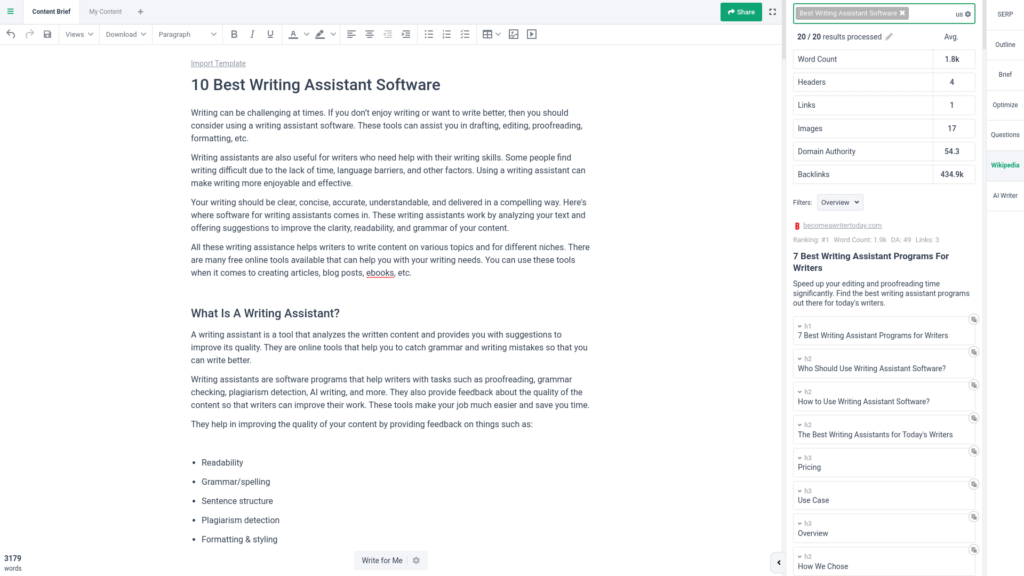 Frase.io is a simple yet powerful writing assistant tool. It helps you create engaging content and deliver it quickly. The tool will analyze keywords and phrases to find content ideas. You can then simply fill in the blanks and click "write for me" to get started. It can automatically create detailed content briefs and offer suggestions for further optimizing your content, increasing your chances of ranking on the first page of the SERP.
Frase is an AI writer. It helps you write articles by analyzing the topics covered on top-ranking webpages. It generates content briefs based on this data, and you can edit them to fit your needs. Frase also provides you with content brief templates, so you can start creating your next blog article right away.
If you sign up for the SEO add-on package, you'll see the domain authority and links associated with each ranking webpages. This information is useful for gauging how competitive a keyword phrase may be in terms of SEO.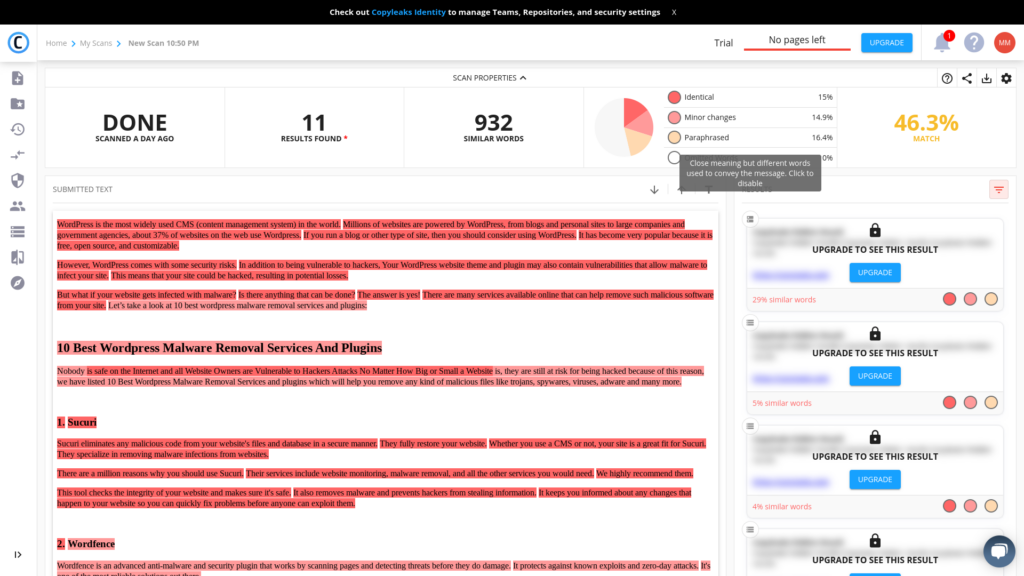 Copyleaks detects plagiarism in your content by using advanced machine learning algorithms and AI technology. It provides you with an easy-to-use interface and helps you detect plagiarized text within your content.
Users may check their content for plagiarism with CopyLeaks Plagiarism Checker, which compares it to every possible source. Copyleaks's smart algorithm instantly reveals when your content contains similar words or sentences copied from other websites.
CopyLeaks Plagiarism Checker works with Microsoft Word, Google Docs, and a bunch of other major platforms, enabling its users to easily identify any instances of plagiarism and correct them within their documents. Users can scan their contents for copied texts by looking for plagiarism in other languages such as Hindi, Spanish, French, German, Italian, Portuguese, Turkish, etc.
Write Sonic is a simple but effective writing assistant tool. With just a few clicks, you can generate professional sounding content. It's perfect for those who want to produce great content on a regular basis.
Writesonic is an AI copywriting tool that generates unique and engaging content for your business in just seconds. You can use it to create ads, blogs, landing pages, product description, etc.
It works by analyzing a document using natural language processing (NLP) technology. This allows it to understand the context of the text so it can write your content with the right tone, voice and style. It uses machine learning algorithms to learn what makes good content. It also learns as you go along and improves its performance over time.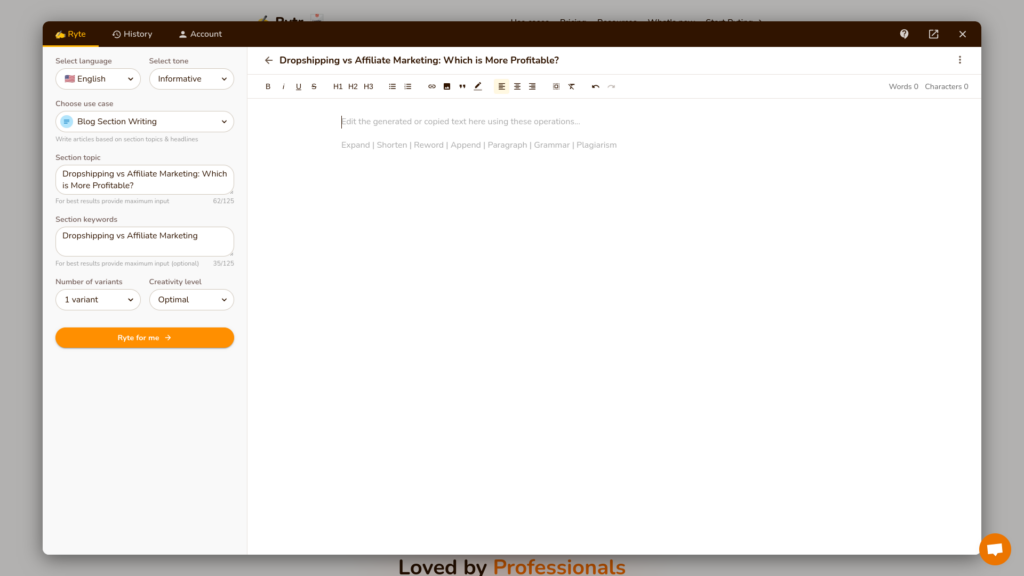 Rytr is an artificial intelligence system that helps content writers to write better articles. It generates ideas and research topics based on the context of the article. It also gets rid of writer's block by suggesting new topics and ideas.
The Rytr app analyzes your written content and finds out if there are any opportunities to improve it. Its AI engine works like a personal assistant by understanding the context of the paragraphs and offering relevant and interesting topics and ideas.
Rytr is an AI tool that generates material for various media websites, blogs, and content production projects. You may give it a theme or idea, and it'll create high-quality content in minutes. It has built-in templates for any chosen content, as well as a selection of different variations.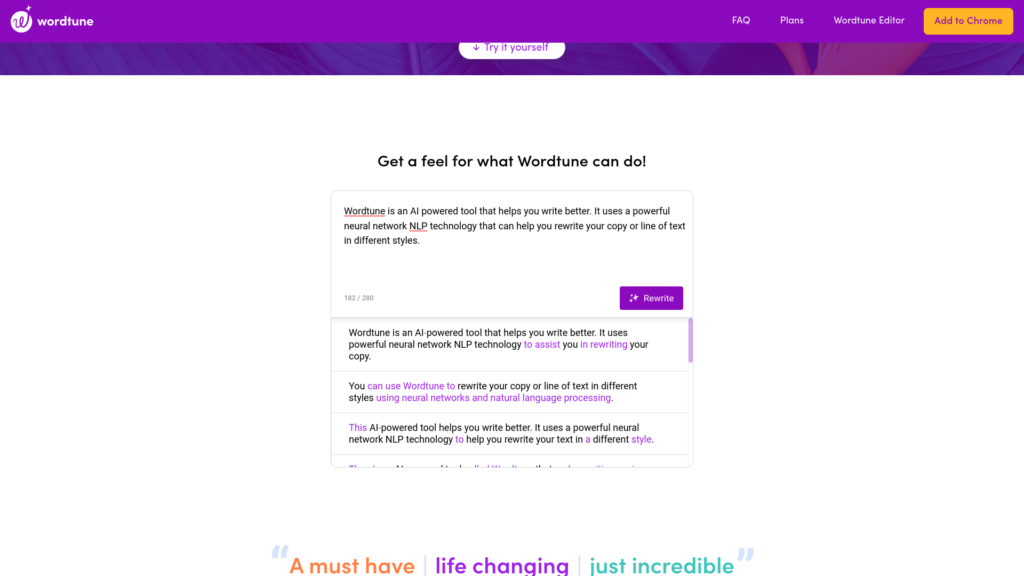 Wordtune is an AI powered tool that helps you write better. It uses a powerful neural network NLP technology that can help you rewrite your copy or line of text in different styles. It is an advanced neural net technology that can help you create compelling, easy to read, and easily consumable content.
Wordtune is an AI tool that helps you rewrite your content to improve clarity. It provides a grammar checker, spellchecker, and article rewriter. With multiple pricing packages available, there's a plan for every budget.
Wordtune has been used by thousands of writers and marketers across industries including finance, healthcare, real estate, software development, education, law, and more. It provides a solution for any writer looking to produce high-quality content quickly and efficiently.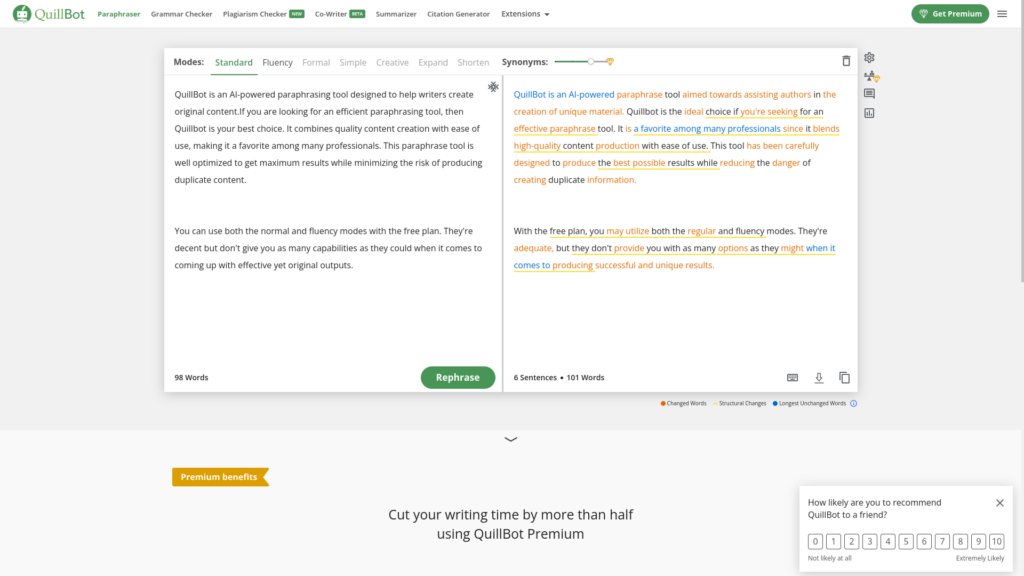 QuillBot is an AI-powered paraphrasing tool designed to help writers create original content. If you are looking for an efficient paraphrasing tool, then Quillbot is your best choice. It combines quality content creation with ease of use, making it a favorite among many professionals. This paraphrase tool is well optimized to get maximum results while minimizing the risk of producing duplicate content. 
You can use both the normal and fluency modes with the free plan. They're decent but don't give you as many capabilities as they could when it comes to coming up with effective yet original outputs.
When using Quillbot Premium, you will have access to all six modes, including the two writing modes from their free plan (normal and fluency), including, creative mode, shorten mode, expand mode, and formal mode.
Copy.ai is a leading AI company with breakthrough technology to help marketers create the perfect marketing pieces for their business. Copy.ai also makes use of GPT-3 technology to generate contents for businesses in any niche. With Copy.ai, you get a tool that will help you create new and creative content at any time. It allows you to write creative content quickly by tapping just one button and lets you come up with new ideas for their work within minutes without having repetitive or dull thoughts coming into play.
Copy.ai is easy to use. Just write a brief description about what you want your content written about and let the platform take care of the rest.
It mainly focuses on 6 copy types which are;
Blog Content
Social Media Post
Product Descriptions
Website Copy
Ecommerce
And Digital Copy.
Anyword is an AI tool that helps you create unique content based on your keywords. It can predict what works better than others and give you suggestions for new ideas. You can also test different versions of your content, and see if any changes affect sales or conversions. Anyword saves you time and resources because it lets you focus on creating great content instead of spending hours writing.
Users can get original ideas quickly using Anyword. Its proprietary models integrate into different languages, helping users accomplish marketing goals. Anyword can be used to help with different content types including blogs, blog posts, blog headlines, blog intro paragraphs, sms promotions, landing pages, product descriptions, email subject lines, ads, and content promotion.
Who Benefits From Using AI Writing Assistant Software?
1. Content Writers
People who have been working on creating content for a long period of time often get stuck when it comes to certain parts of their process. For instance, they don't know how to properly edit their own article or they end up spending too much time searching for information to include in the piece.
A writing assistant app can help them overcome these challenges. They can analyze the content, and point out issues that need to be fixed. This way, writers can easily fix their problems without wasting time.
2. Bloggers
If you are a blogger, then you already know how difficult it is to come up with unique content each day. You might even struggle to come up with topics to write about. The same goes for social media marketers as well.
In order to give your audience value, you must bring fresh content every single day. That's where a writing assistant comes into play. It helps you stay focused and gives you extra time to work on things that matter most.
3. Students
Students usually have a lot of assignments to complete every week. When juggling so many subjects, students often find themselves getting distracted by other things that take away their concentration.
The best thing to do here is to use a writing assistant software. With its help, you can quickly create outlines and manage all your projects efficiently.
4. Job Seekers And Resume Writers
When you are job hunting, you need to make sure that your resume stands out among the rest. That means that you should always put some effort into crafting it. As such, this task can sometimes become overwhelming.
With a writing assistant, you will no longer suffer from writer's block. Instead, you will be able to produce high-quality resumes faster than ever before.
5. Advertising Teams
Advertising teams spend a lot of time brainstorming ways to reach more people. They try different strategies, including advertisements on websites, videos and memes.
However, advertising teams aren't always successful at reaching their target audiences. Sometimes they fail to connect with their customers. This leads to negative reviews and bad ratings.
Using a writing assistance app can help them avoid these kinds of situations. Not only does it allow them to write better ads, but it also helps them optimize their campaigns.
6. Freelancers
As a freelancer, there are times when you feel overwhelmed with all the tasks you have to accomplish. It seems like you're constantly trying to juggle everything, and you never get a chance to relax.
By using a writing assistant, you can free yourself from all those pesky distractions. You can focus solely on what matters most: completing your clients' orders.
7. Product UX Designers
With an AI writing assistant, product designers and content strategists can work together to produce consistent content across webpages or digital properties. 
8 Benefits Of Using Writing Assistant Software
Create Unique Blog Posts In Minutes
Get Original Ideas And Concepts Quickly Using Their Proprietary Models
Save Time And Resources Because It Lets You Focus On Creating Great Content Instead Of Spending Hours Writing
Can Be Used To Help With Different Content Types Including Blogs, Blog Posts, Blog Headlines, Sms Promotions, Landing Pages, Product Descriptions, Email Subject Lines, Ads, And Content Promotion
Easily Integrate Into Different Languages
Detects Plagiarism
Correct Spelling and Grammatical Mistakes
Generate Thousands Of Articles For Your Website
Conclusion – The 10 Best Writing Assistant Software
When it comes to content creation, most people aren't very good at it. They lack creativity and inspiration. If you are struggling to create quality content, there are many tools out there that can help you achieve this goal. These software programs allow you to take advantage of artificial intelligence (AI) and machine learning to create high-quality content. There are some software programs that specialize in certain niches such as:
Blogging
Ebooks
Online courses
Facebook ad campaigns
Sales letters
Video scripts
To name but a few.
Here I have listed my top ten favorite writing assistant software. Which one do you think is best? Let me know in the comments section below!
If you enjoyed this article then please share it with your friends.