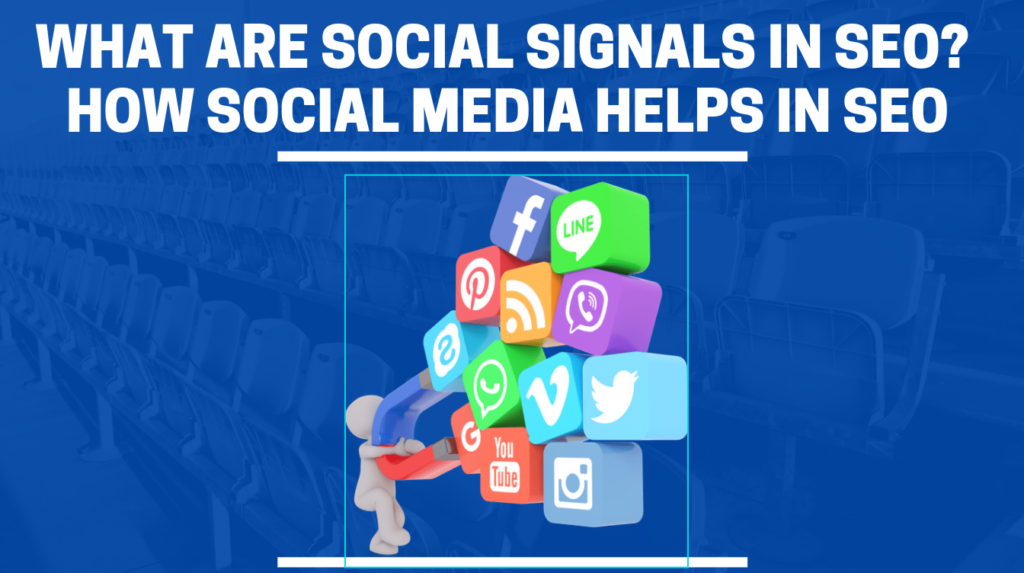 You may have heard about social signals before, but many people don't know exactly how they work. There's a lot of misunderstanding about social signals and SEO, and I'm going to try to clear things up for you in today's post.
Social media has become a part of our lives. Everyone uses social media platforms such as Facebook, Twitter, Instagram or LinkedIn etc. These platforms allow us to connect with friends, family and even complete strangers. They also provide a great opportunity to advertise our businesses and services.
Search engines now reward websites that receive lots of social signals from their visitors. This means that social media plays an important role in helping your site rank higher in search results.
Social signals are those actions performed by other people who visit your site. These include likes, comments, shares, retweets, etc. When someone performs these actions on your page, Google considers it as a vote of confidence. If enough people share your posts, they'll likely appear at the top of search results.
What Are Social Signals?
In simple terms, social signals are the ways people interact with your page/content on social media platforms. Social signals are basically a way of measuring the level of interest in your content and whether or not others think your content is useful.
Social signals can help you get more traffic to your website too! The more people talk about your page on social media sites, the more attention your content will attract. That makes your business more visible and helps boost your brand awareness.
Types Of Social Signals:
There are 5 main types of social signals:
Likes – This shows which pages users like the most
Comments – This indicates the amount of feedback left by readers
Shares – This shows how many times your page was shared
Retweets – This tells you how often your content was retweeted
Followers –  A follower is anyone who follows you on any social platform. Every time you update your status or engage in a conversation, your followers will see it.
Let me explain each type of social signal.
1. Likes
This refers to the number of times your fan(s) clicked the Like button next to your post. If your post gets more likes, then it means that there are more people who support your ideas and want to read more about them.
2. Comments
If you comment on a blog post, you are creating conversations between yourself and other bloggers. Your response to a comment gives more insight into your personality and values.
3. Sharing
The number of people who shared your content on social media accounts is called your reach.
4. Retweets
The number of times a user has tweeted your message out to their friends and followers.
5. Followers
A follower is anyone who follows you on any social platform.Every time you update your status or engage in a conversation,your followers will see it.
Social signals can be a great tool for promoting your business because they show that people like your page and find your content interesting. They help increase traffic to your site and improve your ranking in search results. Many businesses believe that these signals are important for SEO.
Are Social Signals a Ranking Factor?
First of all, search engines like Google say that social signals are not considered a direct ranking factor. However, this doesn't mean they won't affect your rankings at all.
Search signals tell search engine spiders which content is relevant, trustworthy, and popular. This increases the organic search ranking (SERP) for the content and the page. Social signals also influence how search engines rank content, so it's important to understand how these signals affect your site.
Why Is Social Signals Important In SEO?
If you've been using social media for any length of time, then you should already understand the importance of sharing content with others. Sharing something makes it more visible and increases its likelihood of being shared again. The same principle applies to your website.
When someone visits your site, it's much more likely that they will take action if there's a lot of activity happening around your pages. That's where social signals come into play. The more popular your pages and content are on social media, the higher your rankings will be in search engine results. This is because social signals influence web crawlers to view your website as valuable.
READ ALSO:
10 Ways To Increase Your Social Signal
Here are some 10 easy ways to increase your social signals:
 1. Post Daily
Posting regularly helps to keep an audience engaged. It shows that you're committed to providing quality content. For instance, posting once every week may not seem like much, but it does add up over time. And with more posts, there are more chances to share your content.
Hashtags are very useful when used correctly. Using multiple hashtags ensures that your post reaches a wider audience than if you only use one hashtag. Also, use keywords within your tags to ensure that your post is seen by those interested in your industry.
3. Optimize Your Social Profile
Your profile plays a big role in how many people notice your updates. Make sure that you have optimized your social profiles. This means making them friendly, having a good description, and adding a link back to your site. You want to make it as simple as possible for users to share your content. Having a good social presence is key to boosting your visibility online.
4. Create Engaging Content
People love engaging content. A recent study from BuzzSumo found that articles with images get almost twice as many shares as text-only posts. If you're writing about a topic that interests you, try to include visuals such as infographics or videos. These types of posts tend to be more popular since they provide information in a different way.
5. Submit Fresh & Quality Content
High Quality content gets noticed faster than low-quality content. When you submit fresh content, it's more likely that it'll receive plenty of engagement. Make sure that what you're submitting isn't just a repost. Instead, make sure it adds value to other readers.
6. Implement Call-to-Actions
It can be hard to know what to say to encourage people to click through to your website. However, a call-to-action button will help convert visitors into subscribers. 
Calls-to-action work best when they're clear and concise. Ask visitors to take action by liking your page, sharing your post, or commenting. This includes asking them to sign up for email newsletters or check out your blog.
7. Interact With Others
Interacting with others is another great way to boost your social signal. This could mean commenting on other people's blogs or sharing their content. But don't just copy and paste other people's work. Be sure to credit the original author. You may even consider creating a guest post.
8. Write Good Headlines
Headlines are often overlooked. They're also one of the first things people see when browsing your site. So, make sure that yours stands out. Try to incorporate keywords within your headline. Also, be sure to write short and sweet. Longer headlines are harder to read and less likely to be shared.
9. Include Images
Images are an essential part of any content marketing campaign. Including high-resolution photos will increase your chances of getting clicked. It also helps if there are no distracting elements such as ads.
10. Update Frequently
Make sure that you update your page frequently. This includes new blog posts, product announcements, and any other newsworthy items. People like to follow pages that keep them updated.
Conclusion
In order to rank well in search engines, you need to optimize your website content. This includes writing unique, quality content, using keywords, and making sure your site loads fast. But just because you've optimized your content doesn't mean you'll rank high in search results. Social media signals help boost your rankings by showing Google that your page is relevant to people who use social networks.
Social signals can't guarantee top positions but they do give a boost to your page ranking. Your social media profiles can act as free advertising for your business. And while you should always be careful not to spam your followers, social media can help grow your brand awareness.