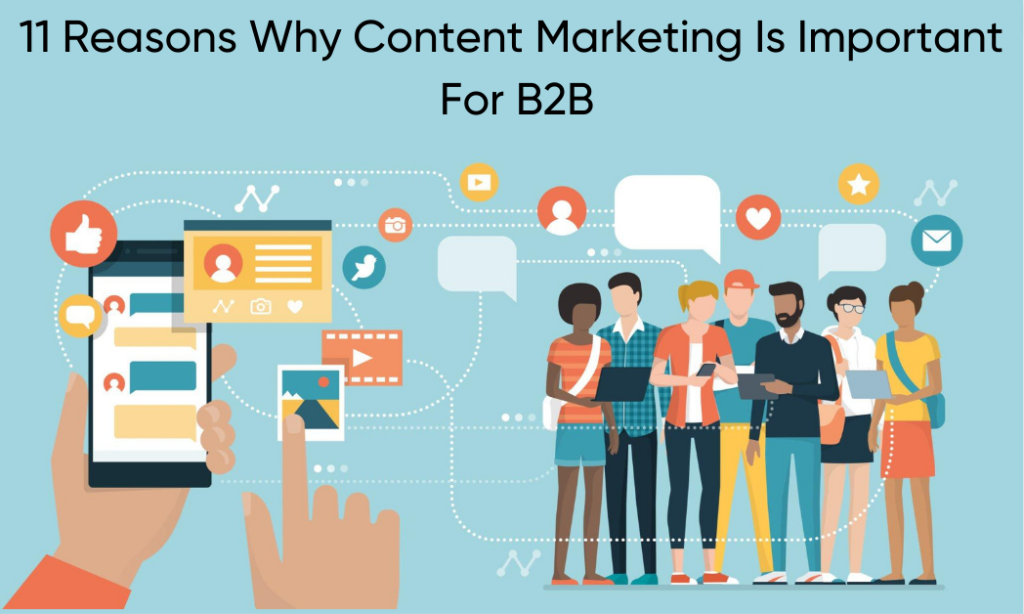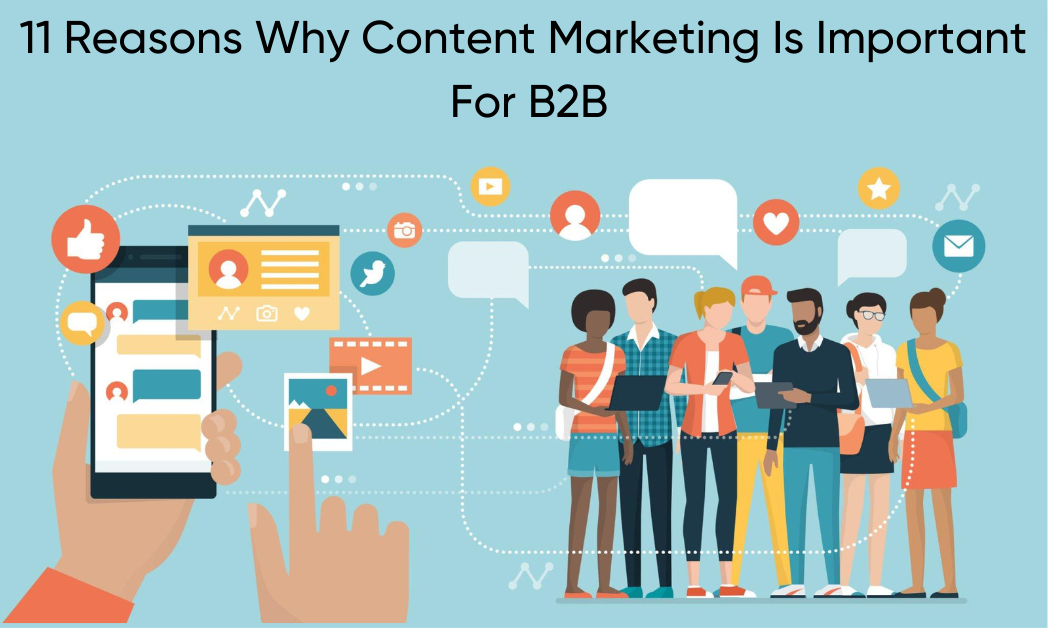 Content marketing is the most effective way to reach your target audience and increase sales for any business, regardless of its size or industry.
It's not just a buzzword anymore; it's an essential part of every successful digital marketing strategy.
In this article, we will discuss 11 reasons why content marketing is important for B2B businesses, so keep reading!
What Is B2B Content Marketing?
B2B (business-to-business) content marketing is simply defined as creating and distributing high-quality business-related content for the purpose of expanding the customer base, developing and strengthening brand awareness, and ultimately driving sales and leads through engagement with other companies.
The main difference between B2B (business-to-business) content marketing and other types of content marketing is that it is specifically designed for companies. It doesn't focus on creating content for consumers.
Content marketing provides a variety of advantages when used effectively. These include making your business more visible, increasing brand awareness, and creating a positive image in the eyes of your target audience.
11 Reasons Why Content Marketing Is Important For B2B
There are many benefits associated with using content marketing for your company. The following 11 reasons explain why you should consider implementing a content marketing strategy into your business:
1. Increase Brand Awareness
When done correctly, content marketing can help build brand awareness among potential customers. This is especially true if you create engaging content that is useful and valuable to your target audience.
If you want to learn how to use content marketing to boost your brand awareness, then you must ensure that all of your content is relevant, interesting, and helpful. 
2. Improve SEO Rankings
One of the biggest benefits of content marketing is the fact that it helps improve search engine rankings, which means that your website will be easier to find by people searching online.
This is because Google places a lot of value on websites that have quality content, you need to ensure that you optimize your site correctly for search engines like Google, Bing, Yahoo, etc. for you to rank higher than your competitors.
3. Build Trust With Prospects
Another reason why content marketing is important is that it builds trust with prospects. When you provide them with great content, they feel valued and appreciated. As a result, they're more likely to purchase from your company in the future.
One of the biggest challenges facing small businesses today is connecting with their target audiences. When done right, content marketing can help solve this problem by allowing you to connect with your ideal customer directly.
When done well, content marketing can also be a great tool for building trust and authority within your industry, which can lead to increased conversions, improved credibility, and better relationships with customers and partners.
4. Generate More Leads And Boost Sales
In addition to helping you grow your customer base, content marketing can also help you generate more leads and boost sales.
As mentioned earlier, one of the most effective ways to do this is to write and publish content that's useful and valuable to your audience. If your content is informative and engaging, then it has a much greater chance of generating leads and ultimately leading to sales.
5. Create Better Customer Relationships
One of the amazing benefits of content marketing is that it creates stronger customer relations. When done successfully, it allows you to develop long-term relationships with your customers.
You can keep these relationships strong by nurturing them through regular communication via email, social media platforms, or other forms of communication. You'll be able to stay connected with your audience and make sure that you remain top of mind when they need you.
By creating high-quality content regularly, you'll be seen as an expert in your field and gain the respect of your audience. This will allow you to establish yourself as someone who is trustworthy and reliable, giving you a competitive advantage over your competitors and ensuring that your business remains successful.
6. Increase Traffic To Your Website
Content marketing can also increase traffic to your website. The best way to achieve this is by publishing unique, informative, and valuable blog posts, articles, infographics, videos, and podcasts. These types of content are highly shareable across different social networks, so you can easily get your message out there and reach new people.
READ ALSO:
7. Content Marketing Grows Your Social Media Following
If you want to build a solid presence on social media platforms such as Facebook, Twitter, Instagram, and LinkedIn, then content marketing is one of the best strategies for doing so. By sharing interesting and helpful content on social media platforms, you will be able to attract followers and prospects which can eventually turn into paying customers
8. With Great Content, You Can Help Move Buyers Through The Buyer's Journey Quickly
The buyer's journey is a term used to describe how buyers move from awareness to interest to consideration to purchase. It's important to understand where your potential customers are along this process because if you don't, you won't know what type of content to create and how to communicate effectively with them.
Content marketing is crucial to lead generation. Your job is to provide content that guides customers through the various stages of their buying process. You should offer them information about your products and services, but you shouldn't just focus on selling. Instead, you should guide them toward making informed decisions.
Finally, they will decide whether to buy from you after doing their own research, by providing content for them throughout the entire buying cycle. You can help guide them to making a purchasing decision more quickly, increasing sales conversions and growing profits for your business.
9. Content Marketing Provides A Long Term Return On Investment (ROI)
When you invest money into content marketing, you're essentially investing in your brand's future success. If you plan on using content marketing to grow your business, then you have to commit to producing quality content consistently.
When you use content marketing to promote your business, you're not only investing in your current customers' needs but also in the future success of your business. Customers are likely to return to your site when they need something again in the future. When you make sure that they find what they're looking for, you're helping to ensure customer loyalty and repeat purchases.
10. Grow Your Email List
Another reason why content marketing is important for B2B companies is that it helps you grow your email list. This is especially true if you publish high-quality content regularly. In order to keep your subscribers engaged, you'll need to send emails that contain useful tips or advice that your audience wants.
When you publish great content, you'll see an increase in engagement and signups on your email list. This means that you'll receive more leads and customers over time. It's well worth the effort to produce high-quality content because it pays off in the long run. 
11. Content Marketing Works For Businesses In Any Industry
Businesses that opt for content marketing often see higher search engine rankings, better conversion rates, and increased engagement with their audience. Regardless of industry or niche, content marketing works well for businesses that want to connect with their audience.
Finding the right topic and type of content that speaks to your unique target market is the key to success in content marketing. However, it doesn't matter if you're in the technology sector, healthcare, retail, real estate, finance, or any other industry, you'll still benefit from content marketing.
Conclusion
If you're interested in learning how to start generating leads and converting prospects into buyers, then content marketing may be the solution. Content marketing has proven itself effective for both small and large businesses.
You've read the different reasons why content marketing is so important for B2B businesses. The truth is that there are many benefits associated with this form of digital marketing. There are plenty of ways that content marketing can be used to improve your company's overall performance, ensuring that you stay ahead of the competition.