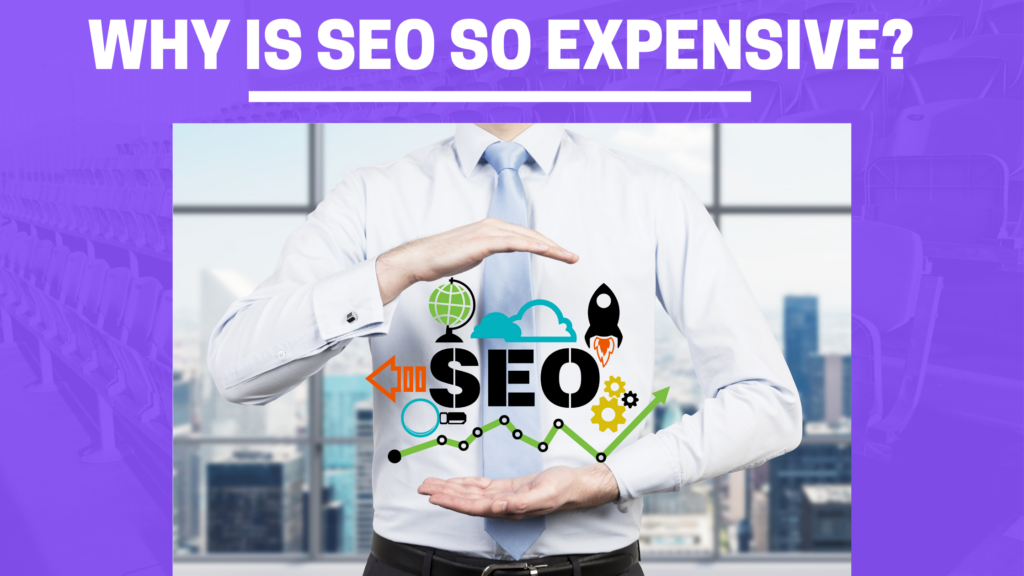 The question about SEO has been asked so many times that I felt compelled to write this article explaining why SEO is so expensive.
You've been hearing about SEO and how important it is for growing your business online but you don't know where to start. So, you decide you want to do some research and find out about getting these services. As you do so, your eyes widen as you read through the costs.
Search Engine Optimization (SEO) has become much more expensive over the last couple of years. Why is SEO becoming so pricey? And why do some companies charge hundreds or even thousands of dollars per month for SEO services?
When you Google something, you usually see several links to websites that appear at the top of the page. These sites are called organic listings because they don't pay for them. They are free because they are found naturally, through search engines. The better content the websites write, the higher they appear on the search results.
Organic listings have become increasingly valuable because people trust them. If you look at the first few pages of a Google search, you can see which websites are trusted by other people who use Google. This makes sense. People go to those websites when they need information, not just to look around.
So, what happens when someone searches for a product or service? He types in his keywords into the search box. The search engine then looks at all the websites it knows about. It ranks them according to their relevance to the keyword. Then it displays the most relevant ones at the top of its list.
If you want to rank highly in Google, you have to make sure that your site appears in the top 10 results. You can achieve this by using certain SEO techniques which take time to complete.
5 Reasons Why SEO Is So Expensive
1. It Takes Time To Rank Well
Building a website is easy these days. But getting your site to number 1 in Google can take months or even years. That's because the algorithm changes frequently. When those changes happen, it affects how often your site appears in searches. To stay competitive, you need to keep updating your webpages or changing the way you promote your business.
2. SEO Is Competitive
If you want to be listed high up in search engine rankings, you must target the keywords people use when searching for information. If there are too many competitors bidding on a keyword, you won't get enough traffic. This means you will have to spend money advertising and promoting your website.
3. SEO Requires Great Content 
Creating great content isn't cheap. You need writers who know what they are talking about. Editors to proofread everything before publishing it online. Marketers to create good ads. Copywriters to build compelling copy. Social media managers to manage your social profiles. A/B testing to determine which design works best with your audience.
4. SEO Requires Experts
Hiring a SEO expert can be costly but necessary. An expert knows how to make sure your site is optimized for the right keywords. He can help you decide whether it makes sense to hire an agency to do your SEO. Or he can teach you how to optimize the content yourself.
When you engage with an experienced SEO agency, you're able to rely on their experience and expertise. Their years of experience and knowledge make them more effective than amateurs. Plus, They know what kind of strategies will help you rank well. 
5. SEO Is Not A One-Time Investment
SEO is an ongoing process. Once you start improving your site, you will need to continue doing it each time the search algorithms change. You also need to make sure that you're staying current with new trends. There are countless ways to optimize your site. As a result, the cost increases.
What Does All This Mean For Your Website?
It costs money, time and patience to get ranked well in search engines quickly. If you decide to hire someone to help you rank, it's important to find someone who understands the ins and outs of SEO.
You should also consider hiring a professional SEO company. They know all the tricks and shortcuts that lead to success. And they can provide you with regular updates so you always know where you stand.
How Do I Find SEO For The Right Price?
You can find affordable SEO by hiring an agency. However, this option may not be ideal for everyone. Depending on your budget, you might consider working with an individual freelancer. Freelancers offer flexible hours and lower prices. Some freelance SEO experts charge as little as $20 per hour. Others charge $50-$75 per hour.
You should think about the long-term benefits of SEO before deciding which route to go. Are you willing to put in the time needed to improve your site? Will it give you the return on investment you expect? How long does it typically take to see results?
How Expensive is an SEO Campaign?
The cost of SEO varies depending on factors like the SEO strategy, service provider, and much more. Most SEO projects run between $750-$2K per month based on the scope of work. A one-time job will cost between $5,000 – $30,000 and hourly consultant fees start at $80 – $200 per hour.
Why Do You Need to Pay For SEO?
There are two reasons why you might need to pay for SEO:
1. SEO Makes Money
The first reason is that SEO generates revenue for your website. It helps to increase website traffic. And traffic converts better into sales and leads than straight organic traffic.
2. SEO Improves Ranking
The second reason is that SEO improves your page ranking. It helps you appear higher in search results. And higher in the search results mean more visitors. More visitors means increased conversions.
3. SEO Builds Trust
The third reason is that SEO builds trust among visitors. Visitors want to trust websites that have been around for a while. That's because they feel safer clicking on those sites. It's similar to how people trust brands with decades of history.
SEO really does not cost much when you consider the benefits it can bring to your business. When you partner with a trusted SEO expert, your business can enjoy improved search visibility, increased traffic, and those valuable, quality leads driving to your site.
When it comes to hiring an experienced SEO consultant, don't be afraid to shop around. Many SEO consultants offer affordable rates for quality work.
If you want to gain strong SEO results, you must work with an experienced SEO agency. An SEO strategy should be tailored to your specific needs. Small businesses aren't going to require as much SEO as larger enterprises.
Conclusion
In conclusion, SEO is very important for any small business. As long as you understand the basics, you should be fine. There are plenty of affordable ways to improve your site without spending a lot of money. Even if you decide to hire an SEO company, make sure you only hire someone who knows their job well.
SEO is expensive, but it doesn't have to break the bank. It depends on your situation. But even at its most expensive, SEO shouldn't be a deal breaker. Even if you only plan on using some of the tools and techniques available, you should still see positive results.